The Inn at Mavericks' backyard in Half Moon Bay
Posted in: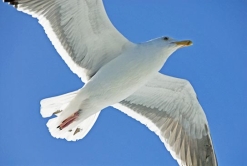 The Seagulls were out today, flying over and floating around.
Its amazing when these birds stay suspended in mid air as the wind whips around them and keeps them flying. When they hang out on the bay's beach, you can get a great glance at them with the binoculars provided at the Inn. You can even see as the fishing boats come in to the harbor, the Seagulls try to snatch a bite of food themselves ( not so successful ).
There are many things to check out in our backyard, different animals and sealife throughout the seasons. Keep reading up here, or book a room at the Inn at Mavericks and have a front row seat from your rooms panoramic view.
Comments
Leave a Comment